Skip to Content
Quality Door Hardware in Southern California
Custom Residential Door Hardware
Your hardware choice plays a vital role in creating a wonderful space that reflects your personality and taste. At Pellco Windows & Doors, we are committed to offering door hardware that not only boosts the character and presence of your home but also ensures long-lasting quality for years. Our carefully curated selection includes products from prominent manufacturers known for their premium designs. With industry-leading consumer warranties, you can trust that your door hardware will be beautiful and built to last, providing you with peace of mind and elevating your home's overall curb appeal.
Door hardware is a lot more than doorknobs and door handles. We offer a wide array of products to customize the look of your home, including barn door tracks, pocket door hardware, door viewers, deadbolts, hinges, doorstops, decorative hardware, surface bolts, and more. Our dedicated team has over 30 years of experience providing Southern California with prestigious doors, windows, and hardware.
Our Door Hardware Selection
At Pellco Windows & Doors, we understand that every door is different. Door hardware that delights a homeowner may not work for a local business. We offer a wide variety of options for our customers to choose from. We also offer customizable door hardware so you can match it to the look of your home or place of business. Our door hardware options include: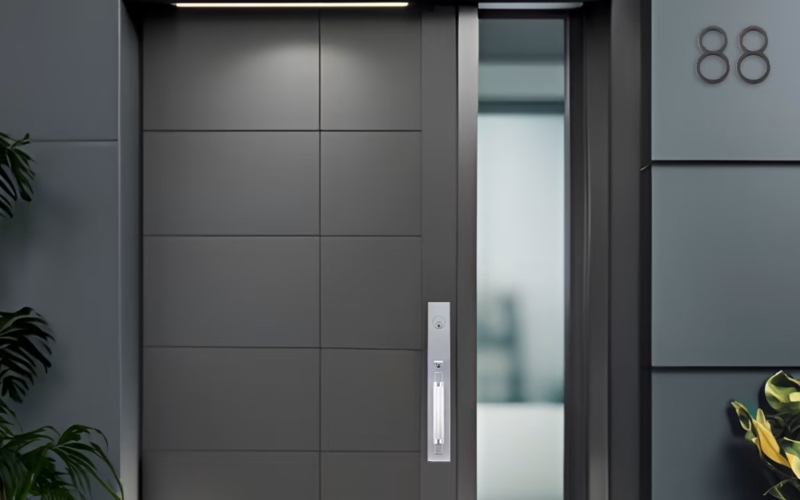 Front Door Entry Sets – Embrace the allure of simple yet elegant designs with our custom-assembled handle options, available in a wide array of finishes such as polished brass, satin nickel, polished chrome, satin brass, and more.
Deadbolt Locks – Enhance the charm of your home with our range of effective deadbolt options, boasting various styles and finishes to complement your aesthetic vision.
Electronic Locks – Our electronic keypad locks are designed to blend seamlessly into your décor home while making home access more convenient for you, your family, and your guests.
Sideplate Locks – A sideplate lock consists of a large plate with a handle and lever. The plate can be blank or decorative with patterns and textures.
Multi-Point Lock Hardware – These are elongated locking plates that grace your doors with a touch of elegance. This option is available in modern, antique, and other unique styles.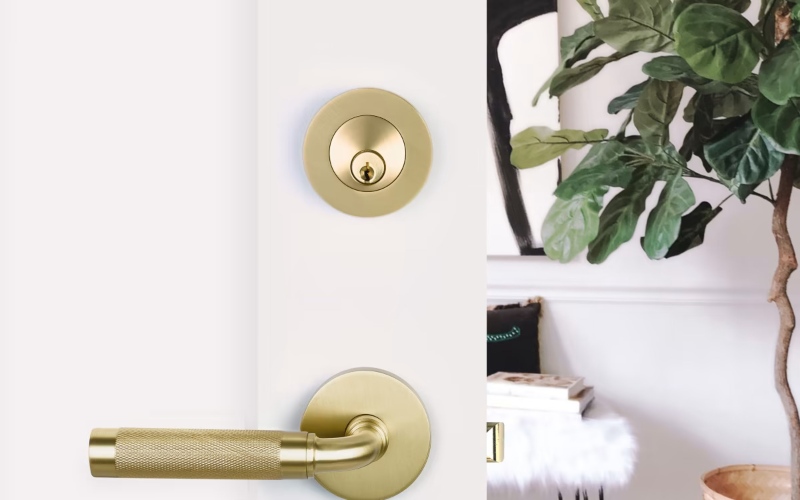 Barn Door Hardware – Barn door hardware adds rustic flair to your interior or exterior spaces. This type of hardware is typically utilized for rollaway doors.
Sliding Door Hardware – We offer lever operated latching hardware and lock/key options for to add an aesthetic touch to your sliding doors.
Key/Lever Entry – If you prefer to keep your door hardware simple and streamlined, we offer plenty of keyed entry door lever hardware options.
Basic Knobs and Levers – Basic knob or lever-style door handles (without locks) are often used for bedroom doors and other interior doors. We have many styles and colors to choose from.
Accessories – We offer a number of hardware accessories, including wall bumper door stops, roller door catches, magnetic door stops, flush pulls of all shapes, and more
Elevate Your Home's Aesthetics
Updating the hardware on your doors can significantly enhance your home's entire vibe. It's a cost-effective way of breathing new life into your home without replacing the entire doors. We provide stylish and upscale door hardware to reflect your personal taste and design sensibility, allowing you to express yourself in more ways. Whether you choose sleek and modern handles to complement a contemporary interior or opt for ornate and intricate designs to add a touch of elegance to a classic setting, we're here for you. Create a welcoming and sophisticated atmosphere throughout your home by investing in high-quality door hardware from Pellco Windows & Doors.
Windows and Doors of the Highest Quality and Value