Skip to Content
Interior & Exterior Doors in San Diego, CA
Transformative Doors by Pellco Windows & Doors
Your doors are an essential part of your home's design. At Pellco Windows & Doors, we offer homeowners in San Diego, CA and the surrounding area with a wide variety of high-quality interior and exterior doors for their home. Whether you're building a new home or remodeling your existing home, you're sure to find what you're looking for from our massive selection. We carry some of the most trusted names in interior and exterior doors, including Milgard, Fleetwood, Eclisse, and many more. For over 30 years, we have been helping our customers transform their homes with new interior and exterior doors. Let's start a project together! Get your free quote today.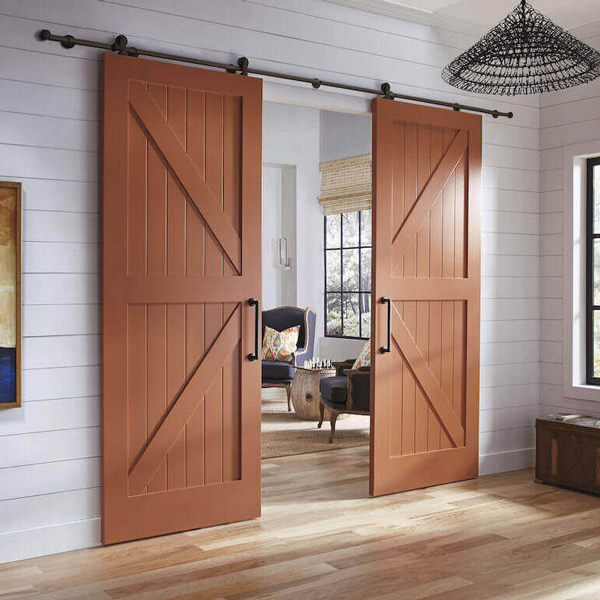 What's Behind the Door Influences Its Design
The average home has 10 interior doors. Depending on what's behind the door, your interior doors could have different purposes. Bathroom doors are for privacy and typically have a solid core to reduce sound transmission. Interior doors that divide two rooms may be more creative. Consider how the use of barn doors acts as a barrier but also adds convenience and style.
Contemporary Interior & Exterior Doors
With a few purposeful lines, interior and exterior doors can display a simple, unique look. Add some color to these doors for a more dramatic look. The smallest accents can add just enough style, creating a signature appearance.
Another contemporary idea is the use of panels. With multiple-panel configurations, you can also add glass. Clear or translucent glass inserts protect privacy or let light into space. With multiple panel options, you can use the same door design throughout with different configurations for a consistent look.
Are There Different Types of Doors?
Choosing the right style, design, and function of your interior or exterior door can be somewhat challenging. Your home's doors aren't something most homeowners spend a lot of time thinking about. That's okay! At Pellco Windows & Doors, we have a large selection of styles to choose from, and our team can help you make a selection that fits your space, style, and budget. Learn more about the different kinds of doors we sell:
Bi-Fold Doors – Bi-fold doors utilize a hinge and track system for smooth opening and closing. They are ideal for smaller spaces such as bathrooms and laundry rooms. We offer styles that include paneling and louvered, and they can come in a variety of colors to meet your home's needs.
Sliding Doors – Our sliding doors are ideal for bedroom closest. They operate on a track, so they don't require door clearance to work. In some cases, they can also be used as a room entry door.
Barn Doors – Barn doors offer some of the same benefits as a sliding door. Namely, they operate on a track and don't require outward clearance to work. Their style is best suited for rooms that are trying to achieve a rustic look.
Slab Doors – Slab doors are your traditional interior door. They are available in various colors, styles, and materials to fit your design and budget.
What's the Difference Between Interior and Exterior Doors?
Pellco Windows & Doors is your residential door design and sales expert. Our team has a wide range of interior, exterior, and front entry doors available to homeowners. When you meet with our team, we will help you find the right type of door to fit your style and budget. While interior and exterior doors may look similar or even the same, the purpose and construction of interior and exterior doors are diverse in some cases. Learn more about the similarities and differences between interior and exterior doors below.
Privacy – Privacy is one of the most significant considerations when purchasing interior and exterior doors. Your interior doors are almost always solid construction that dampens sound. However, some homeowners may enjoy allowing natural sunlight to shine through into their home and choose a sliding glass door for their patio space.
Constructions – Interior doors don't have to withstand the rigors of severe weather, including rain and high temperatures. On the other hand, exterior doors are precisely manufactured and treated to ensure the materials used can withstand inclement weather.
Design – Both interior and exterior doors can be as ornate or traditional as the homeowner's preference. With a vast selection to choose from, you can find the right design you're looking for at Pellco Windows & Doors.
Interior & Exterior Door Brands We Trust
There are lots of interior door options on the market, but these brands are the ones that we've found to be consistent in quality and have the widest selection. Discover all the options available today then contact us for a consultation or to get a free quote.
Choose the Right Door Sales Experts
For over 30 years, the experts at Pellco Windows & Doors have been providing homeowners with high-quality interior and exterior doors. Our professional team will help you browse our impressive selection of residential doors and help you find the one that fits your style and budget. Interior doors are a budget-friendly way to redefine any room in your home. Whether you're completing an interior renovation or want to transform your home's curb appeal with an exterior door, Pellco Windows & Doors has the right selection of styles and types. Contact our team today to get started with a free quote.
Windows and Doors of the Highest Quality and Value