Skip to Content
Skylights in Southern California
Quality Skylights at Pellco Windows & Doors
A quality skylight can enhance the comfort and value of your home. Because skylights increase the amount of natural light in the home, they reduce reliance on electric lighting and improve the overall ambience of the home. At Pellco Windows & Doors, we pride ourselves on finding the perfect finishing touches for any home. We offer a wide selection of Velux skylights that offer a timeless elegance and sophistication to any home. Whether you've just moved into a new place, are remodeling, or are designing and building a home from the ground up, we hope you will see us as a trusted partner throughout the process. Call us today to schedule a consultation or request a free quote for skylight replacement in Southern California, Orange County, or San Diego County.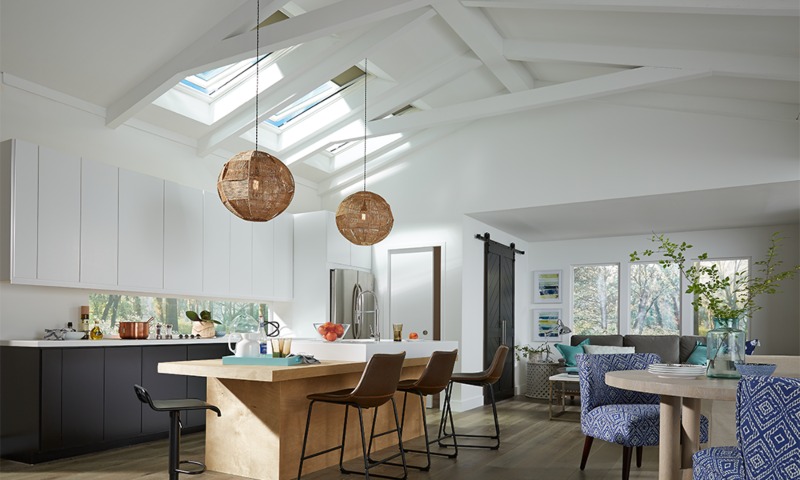 Types of Velux Skylights
We offer skylights from Velux. Velux is a trusted name in the industry, and their quality products are used by home builders and homeowners nationwide. Velux offers the following popular types of skylights:
Solar Powered (no wires)
Electric Powered (hard-wired)
Manual (includes telescoping pole for operation)
Fixed (non-operable)
These Velux skylights are available in standard and custom sizes.
Skylight location options include:
Curb mounted
Deck mounted
Self-flashing
We offer the following upgrades and accessories for Velux skylights:
Factory-supplied and installed light-filtering shades
Light filtering and blackout shades
Optional flashing systems available for different roof systems
Customizable smart home options from Velux skylights that allow you to connect the skylight and blinds with sensors and operate from anywhere using your smartphone.
Benefits of Skylights
Skylights offer so many benefits to the home, including:
Improved ventilation & fresh air
Enhanced beauty & comfort
Higher resale value of your home
Increased energy-efficiency
Improved health
Greater natural light
Room brightening
Decreased humidity
More comfortable sleeping conditions
Beautiful, panoramic views
Considerations When Planning for Skylights
Before picking out skylights, you should consider a few important factors to ensure you're making the right choice for your home. A skylight should enhance the natural beauty of your home while allowing natural light in, but they aren't necessarily right for all roofs or all homes. Here are some things to consider before planning for skylights:
Material Variety
Skylight frames are available in different materials such as vinyl, wood, or metal. The skylight window or glazing can be made of either glass or plastic, each with its own advantages. Glass is clear, scratch-and-impact-resistant, blocks UV rays, and offers customization options in terms of size and shape. On the other hand, plastic is lighter, cheaper, and less prone to breakage.
Roof Compatibility
Skylights are best suited for stick-framed roofs and flat roofs. Truss-framed roofs pose installation challenges, as cutting into them may compromise their structural integrity. It is important to assess the suitability of your roof type before considering skylights.
Ventilation & Illumination
Opting for skylight windows that can be opened allows for the entry of both natural light and fresh air. This facilitates the escape of warm air, regulates heat loss or buildup, and helps prevent leaks.
Protective Glazing
Incorporating protective glazing on skylight windows provides multiple benefits. It enhances privacy, regulates light and temperature levels, and further reduces UV rays and glare. Additionally, the glazing can be tinted to create a softer, ambient lighting effect.
Strategic Placement
Seek expert advice to determine the optimal placement for your skylight. Consider the direction it faces, as well as its slope, which should be approximately 5-15 degrees higher than your latitude. It is important to ensure that the skylight does not obstruct your desired view.
Maintenance & Accessibility
Keep in mind that skylights require regular maintenance to keep them clean and in good condition. Consider accessibility factors when planning for their installation, such as the ease of reaching the skylight for cleaning and maintenance purposes.
Energy Efficiency
When planning for skylights, it is crucial to consider their impact on energy efficiency. Proper insulation should be provided around the skylight to minimize heat loss or gain, ensuring a comfortable indoor environment and reducing energy consumption.
Safety Measures
Ensure proper safety measures are in place during skylight installation to prevent accidents. This includes using appropriate fall protection systems and following safety guidelines provided by professionals.
Permits and Regulations
Before proceeding with skylight installation, check local building codes and regulations to ensure compliance. Obtain the necessary permits and approvals to avoid legal issues in the future.
Long-Term Durability
Choose skylight materials and designs that are known for their durability and longevity. Consider factors such as resistance to weathering, durability of seals and flashing, and the reputation of the manufacturer or supplier.
Tips for Choosing Skylights
Choosing the right size and type of skylight will depend on a number of factors. You will need to consider the amount of natural light the room already gets. If a room already has multiple windows, your skylight window should only be about 5% of the total floor size of the room. For rooms that have few or no windows, you should choose a skylight window that is around 15% of the total floor size. Next, you should look at the style of the skylight. You want one that enhances the natural beauty of your home, complements existing architectural features, and improves the light flow in the room. Finally, consider special features offered by your skylight window manufacturer. Some skylights include features like smart home integration, solar operation, light-filtering or blackout shades, and automatic shades.
Why Choose Pellco Windows & Doors for Skylights
Our experienced, knowledgeable team believes in conducting business with honesty and integrity. We are committed to exceptional customer service, and we work closely with each customer to establish a relationship of trust and transparency. We maintain a strong focus on the details of each job, as well as ensuring each element comes together seamlessly for a smooth, worry-free project. We know that our clients are making an investment in our company when they choose to do business with us, so we only offer the highest quality products and materials, and the finest workmanship in order to make sure we're worthy of that investment. We want our customers to feel confident in their choice to partner with us and so we take a full-service approach to each new build, remodel, or renovation.
Schedule a Consultation for Skylights
Call us today or contact us online to learn more about the benefits of skylight replacement in Southern California, San Diego County, or Orange County. We work with homeowners, home builders, designers, and architects to help them find the right products and materials for their homes. Check out our online portfolio, and then get in touch with us to start planning your next project.
Windows and Doors of the Highest Quality and Value